Truck transportation is the best method to deliver unmanufactured forest products to the mills. They can be in the form of chips, tree-length, log-length, cut-to-length, and short-wood. For delivering these wood fibers there are different kinds of truck & trailer combinations used.
Trucking is very expensive, during the wood-harvesting operation. It is found that the maximum 60% of the total harvest cost is because of truck transportation. There are contract haulers and the company-owned trucks that participate in 45% harvesting operations.
It does not matter who owns the remorque a bois [wood or timber loading trailer] and truck. The thing that matters most is to operate the hauling and transportation safety. Unsafe trucking practices can impact on the revenue because of a machine breakdown, increased labor & fuel expense, property damage, accidents, injuries, etc.
Best working practices for truck drivers hauling timber-harvesting products
Planning stage
At haul, road entrances the sight distance of 400 to 600 feet is needed for vehicles traveling at 60 mph.
If the haul road entrances are located at blind curves and you find it hard to establish sight distance, then use flaggers as a warning sign for oncoming traffic on that road.
To alert the oncoming traffic make use of 'Truck Entering Road' signs.
Wooden mats, gravel is helpful to keep mud off the highway entrances.
Have an entry permit issued before starting harvesting operation.
Use trucks with suitable turning radius for currently existing roads. If new roads need to be built, then design them accordingly.
The turnarounds need to be large, to accommodate the truck. There must be no slash or debris near the turnaround as this can damage the trucks.
Decks need to be large so that trucks get loaded smoothly and all other harvesting equipment can be accommodated.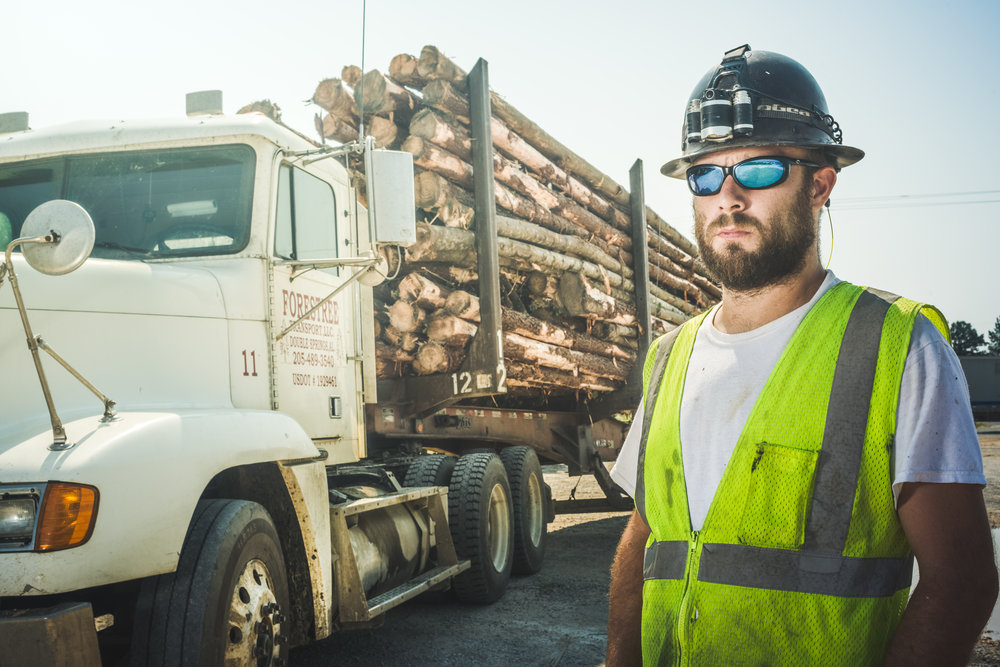 Loading
Loading deck is a risky area, during the harvesting operation. Truck drivers need to wait until the loading area is cleared. During loading, the drivers must exit and move to some safe location.
Wear appropriate protection equipment like hardhats. Logs have to be of appropriate length, to be contained within two bolsters. Load height has to be according to the federal or state law requirements. Tie proper red flags or lights. Never move truck until binders get secured.
Trimming
Whoever trims a loaded truck must follow proper safety precautions like chainsaw chaps, hardhat, eye protection, hearing protection, and cut-resistant boots.
Binding, mounting or dismounting, driving and unloading are the integral part, where the truck drivers need to take precautions. Drive with responsibility towards yourself and others!